A dream has to be dreamt and action taken for it to become a reality.
Sprig's Hideaway is a "secret" salon found in the back portion of the super cool and fun gift shop called This, That & the ODDer things. All of which was once a dream, turned into action by one ambitious stylist.
  Claire Elise Broderick has been in the beauty and hair industry for near 20 years and has gained mad skills over that time. Claire comes highly recommended by her clients and friends. She continues to put in a lot of extra efforts to keep a safe and clean working environment. Where clients can feel at ease from the dooms of the Covid-19 sickly pandemic. During the warmer months, weather permitting she literally works outside and has set up a fun and comfortable outdoor salon. Come enjoy conversation, a beautiful ambiance and a most adorning look for you. An aficionado at hair coloring and haircuts, Claire will listen to your needs and best match your hair with an incredible style you may call your own. 
NOW WELCOMING HIDEAWAY HEALINGS!
  The beautiful 165 year old space turns from salon into a space for healing and energetic soul and body work. During the days when Claire is not healing hair and lifting the spirits of vanity friends Becca Hackett and Kristy Dannaug were asked to bring in their special skills. Hideaway Healings focuses on full body, soul and mind services. Aiming to complete the space and fill it with more love and care. Each of these 3 women have benefited from intuitive healing and are big advocators of self love and care in many forms. Each work one on one with their clients in a safe controlled environment you can trust. 
Claire Elise Broderick

Expert colorist and hair cutting extraordinaire. Claire has been doing hair in the Ann Arbor area for nearly 20 years. Her experience has allowed her to dabble in all sorts of work including editorial, workshops, photoshoots, theater and fashion shows. She loves being behind the chair and her one on one work is most important because of the love for her clients.
Becca Hackett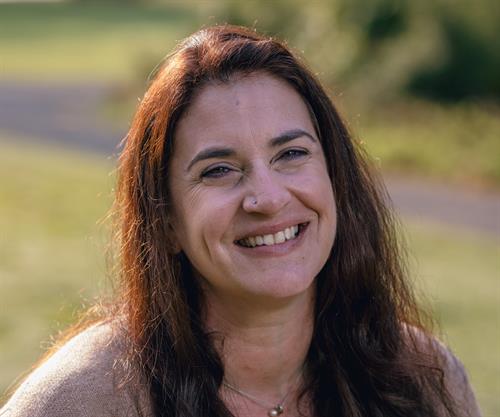 My goal is to support you on your path to wellness using multiple modalities such as yoga therapy, reiki, crystal healing, meditation and breathwork. I specialize in mental health, chronic pain and pre/post-partum support. My mission is to hold a safe and supportive space for whatever you may need.

Kristy Dannug
Kristy is a spiritual counselor, integrative bodyworker, and holistic healer who creates sacred art in honor of the Divine Feminine. She is a graduate of the Manresa Center Spiritual Counseling program and the Institute for Integrative Nutrition. She studied the SUN SHEN Inner Cultivation and Healing System for six years. With a strong passion for helping stressed out, overwhelmed women receive the same level of support and care they give to others (but often have trouble accessing themselves), Kristy's offerings are comprehensive, inviting her clients to remember their wholeness and embody wellness on all levels.
The Hideaway hides behind a moving bookcase wall from the store giving privacy and ability for true one to one care by Claire, Becca or Kristy.  Yet you will find good visibility, easy in and out access from the back adjoining parking lot where clients can park for free in the busy Depot Town area during their appointment times. Look for the Sprig's Hideaway signs in the parking lot to know where to park. Back door entrance is easy found in the right corner of the back patio. Schedule NOW we hope to see you soon!